I'm at a conference in Pleasanton, CA for a few days, and took a few hours after the conference this evening to bird Mines Rd south of Livermore (birding guide and map
here
). Absolutely beautiful drive on winding roads through the foothills.
Nice to see some birds that I haven't seen for many years, including several species that only live in California--Yellow-billed Magpie, California Thrasher, and California Towhee. Oak Titmouse and Acorn Woodpeckers were additional treats, as was a female Phainopepla.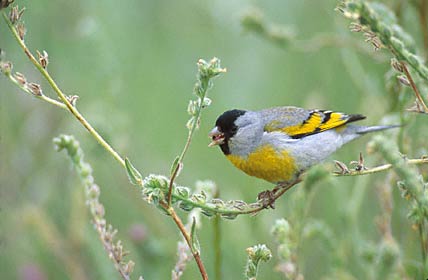 The real object of my search was Lawrence's Goldfinch (photo above), a small seed-eating bird that breeds only in CA and Baja California. Very cool little bird, and one I've never seen before. Finally, at The Junction, I got a look at three of these birds in flight...not the great look I'd like, so will probably try to make it back up there to get better looks, but my first sighting of these great birds.
California poppies are blooming, and meadows are covered with small yellow flowers. A thirty mile drive on a winding mountain road was just what I needed today to rejuvenate the soul.