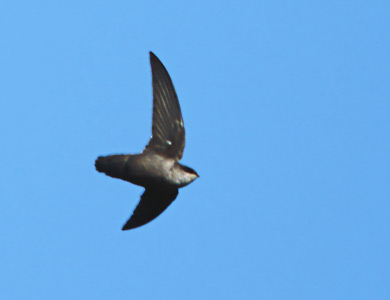 For the last few weeks in August I traveled to meetings in Midland, Michigan, where I pretty much didn't see any birds. Then I flew to Utah to pick up my family and drive to my sister's wedding in Oregon. The week in Oregon and Utah was mostly for family, without any real serious birding. However, it was good to see a few birds from my childhood, including a pair of Vaux's Swifts--small aerial insect eaters closely related to the Chimney Swifts of the Eastern U.S.--that buzzed over my parent's garden while we were setting up for the wedding reception.
In Utah, I mostly spent time with family and helping on the farm, but did get up Logan Canyon for an evening hike with the family, where we did see a pair of American Dipper--a great little bird that feeds on insects it catches while walks underwater along the bottom of fast-moving mountain streams. They are named for their habit of bobbing or dipping up and down as they stand on rocks above the water.
Another fun bird to see were the flocks of White-faced Ibis all over Cache Valley. these long-legged wading birds nest in the Great Basin and spend their winters farther south in Central America. In late summer, flocks of adults and young birds are all over Cache Valley feeding in wet fields and the marshes west of Logan.