Southeastern Arizona has some of the best birding and most wonderful scenery in the United States, so I didn't complain when I had to attend a couple meetings there earlier this month.
Driving from Tucson to the
Audubon Research Ranch
near Elgin, I was able to pick up a couple new birds--Rufous-winged Sparrow and Botteri's Sparrow. While most people aren't interested in little brown birds, these are some very cool creatures.
Rufous-winged Sparrows
live in the Sonoran Desert, and are threatened by habitat destruction. I was able to find three of them singing in a dry wash off a dirt road, but road equipment and the sound of nearby housing construction made me wonder how long the birds would be able to persist in the area.
Another fun sighting were the pair of Burrowing Owls sitting on the top of tombstones in the cemetery next to the
San Xavier del Bac Mission
on the
Tohono O'odham Nation
just west of Tucson. This is a well-known location for seeing these birds, but while I was walking along the road there, a couple tribal policeman told me it wasn't allowed, so I wasn't able to stay long. I had been told not to enter the cemetery, but apparently birders shouldn't even walk the area.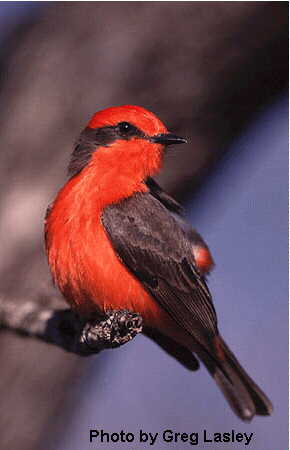 The Audubon Research Ranch is a great place where I was able to spend the night. Acorn Woodpeckers, Botteri's Sparrows, and Cassin's Kingbirds were some of the fun birds there, and I was able to start my morning off there with a nice male Vermilion Flycatcher. Hundreds of studies have been published from research conducted here on the ecology of desert grasslands--its a fabulous place where I was also able to see a stock tank filled with tadpoles and emerging baby spadefoot toads.
I was able to slip out of meetings in Sierra Vista for an hour to visit
Beatty's Miller Canyon Guest Ranch
, a well-known hummingbird Mecca, where the high-point was a stunning male
White-eared Hummingbird
, a Mexican species that can regularly be found here but almost nowhere else in the United States. Thanks to Sheri Williamson of the
Southeastern Arizona Bird Observatory
for accompanying me to this place and introducing me to the hundreds of hummingbirds swarming about the feeders there.
Another highlight of the trip was spending my birthday on the top of the Chiricahua Mountains near the New Mexico border--pretty much the only place north of Mexico where the Mexican Chickadee lives. I was able to find several of these little gray, black, and white birds in the Douglas-Fir forests 12 miles up a dirt road in country that looks a lot more like Montana than typical conceptions of Southeastern Arizona.
But my happiest birding moment came on my last day in Arizona. On my way back to the airport in Tucson, I stopped for a couple early morning hours in
Scheelite Canyon
on Fort Huachuca, where I hoped to find Mexican Spotted Owls. This is the best-known place to search for these birds, and since I had missed Northern Spotted Owls several times as a kid in Oregon, I was really hoping to find these birds. After hiking almost a mile up the canyon, the guidebook said that the birds most often roost in the righthand canyon fork, and only infrequently use the left fork. However, I had a strong feeling I should take the left fork, and after a couple hundred yards, I was rewarded with a sighting of two
Elegant Trogons
--a very cool tropical species that nests in the mountain canyons here and throughout Southeastern Arizona. I hadn't seen these birds yet on this trip, so I thought I was getting a great reward for following my hunch to take the left canyon fork.
As I started back down out the left fork of the canyon, I suddenly looked up towards the canyon wall and there was a gorgeous
Spotted Owl
sitting in the open about 30 yards away. It sat there for 10 minutes, mostly sleeping but occasionally looking around, until I had to leave it there in the early morning sunlight. It was a magical moment in an enchanted place. The drive back to the airport and the plane ride back to Philadelphia were merely a blur after finally seeing one of these great threatened birds.