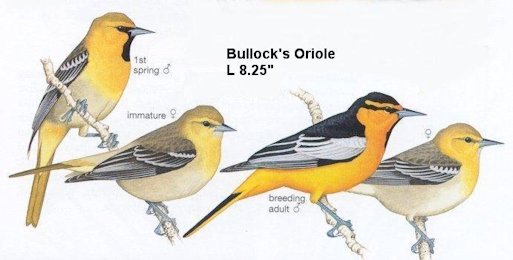 This morning I drove an hour and a half out of my way to see a young
Bullock's Oriole
in Bethlehem. The bird is coming to a feeder behind a house, and when I got there this morning, it was pouring rain. Fortunately, within ten minutes, the bird appeared at the feeder, where it seemed to eat some grape jelly spread out for it on the platform feeder. Then after about 45 seconds, it flew off around the back side of the house.
While this is only the third time this species has been seen in Pennsylvania, I grew up with them out west and have seen dozens, if not hundreds, of them. So why would I drive an hour and a half out of my way and stand in the rain for ten minutes--just to see this orange and gray bird for less than a minute? Especially when I should be spending the full day working on my PhD dissertation on urban bird conservation? Probably because I'm insane. Its just what birders do!
Now, there's a
Northern Hawk Owl
I'd love to see just six hours away up in New York. What are the chances I can get my family to make a day trip of it?